Robotic palletizer in modern automation
The implementation of robotic palletizers, as well as the introduction of automation in various areas of business in general, automatically generates the emergence of unspoken requirements for the quality of production equipment and storage facilities. But the main role assigned to modernization by replacing manual labor with robotic labor is to increase work productivity and, as a result, increase income.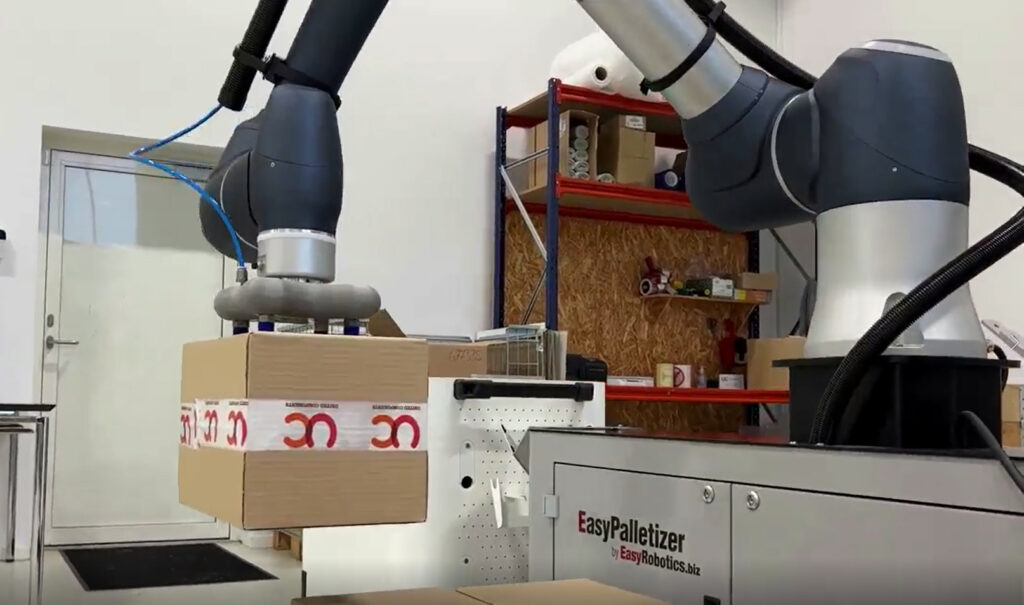 What is a palletizer?
A palletizer (or palletiser) is a system that automatically sorts, transfers, and stacks packed products on pallets. It is typically found at the end of a production line, where goods are put on pallets and prepared for shipment. Automation of a palletizing process is useful for production of any size, it helps to reduce the wage fund and increase productivity.
Automation of a palletizing process is useful for production of any size – it helps to reduce the wage fund and increase productivity. Palletizers offer accurate and stable stacking at a consistently high speed. That allows the business owner to save time and money and saves his staff from monotonous, boring work.
Types of palletizers
There are 4 types of palletizers – Robotic, inline, high-level and low level. Let's figure out how they differ.
In-line palletizing systems form the whole layer of products and then stack it on a pallet with one move, over and over until the pallet is full.
One of the varieties of in-line palletizer is called "Row stripper". This type of system is forming a row of boxes and then stacks it on the pallet or on the top of another row.
High-level and low-level palletizers are both working with the conveyor belt, but have a different loading method: low-level is loading products from the ground-level, and high-level palletisers are organizing loading from the aboveground. Above-mentioned systems have higher speed of pallet loading than the robotic palletizer, but they need much more space, cost a lot and require the equipment of a special conveyor line for correct operation.
What is robotic palletizer?
A robotic palletizer is a machine with a robot arm, that grabs the packages from a conveyor belt or a table, and then stacks it on a pallet. It is a "robot cell" combined with industrial or collaborative robot, that can work with any types of finished products or other goods, requiring further processing (spare parts, for example), as well as products packed in bags, boxes, cartons, cans and other types of packages.
Robot palletizer is a universal solution, that suits almost any production in any industry – a platform capable of making your business more profitable by ensuring uninterrupted operation 24/7.
Advantages
By implementing an automated robotic palletizer, you get following advantages:
A quick return on investment due to increased profits and significant savings due to the elimination of manual labor;
Reducing the likelihood of occupational injuries to a minimum;
High-speed 24/7 operation and increased productivity;
Precision and ease of palletizing process control due to the intuitive functionality of the cell;
The competitive advantage of the company over its rivals in the market, which is determined by the introduction of innovative technologies into the business.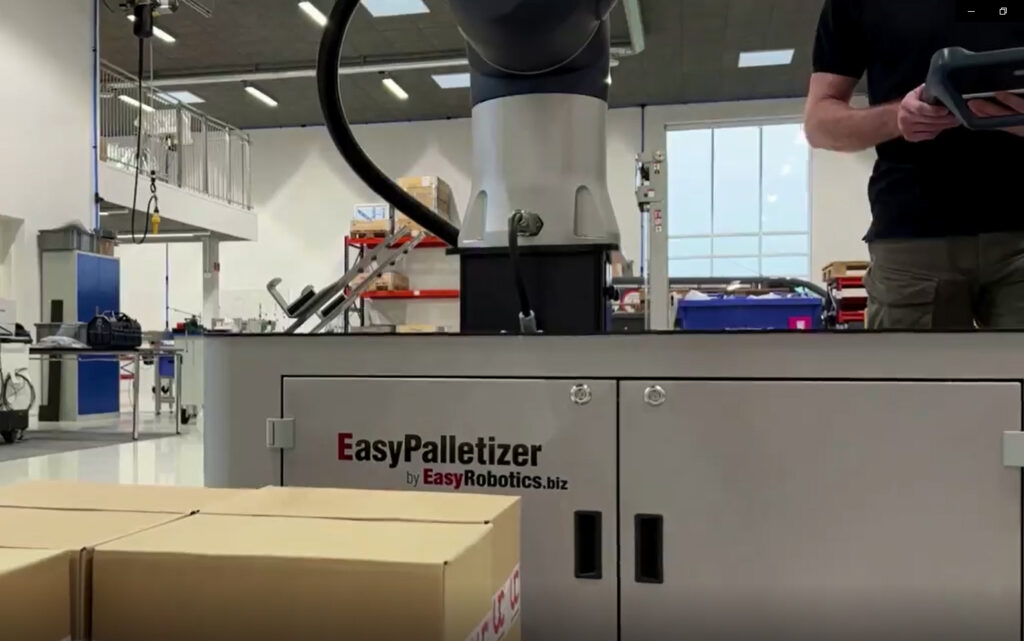 EasyPalletizer as an example of a compact robotic palletizer
The robotic palletizer EasyPalletizer is an innovative robot cell that consists of a central console, containing a compartment for a robot controller with the possibility of connection through the cables included, a lift or a pedestal (varies depending on the model). In addition, the platform is equipped with sensors of the docking system, that monitors and signal in case of uneven location of pallets.
The innovative EasyPalletizer from EasyRobotics can work directly with any type of conveyor, which is also important. This will minimize the use of workers' labor and reduce labor costs. It is noteworthy that you will not need to hire a separate specialist to set up and manage a robotic cell. Any operator can cope with this, even if they have a very vague idea of how such platforms work.
The principle of operation
By means of a plug-in cobot, the palletizing robot moves and stacks products, forming pallets;
The latter can reach a height of 2.4 meters, and the weight of each individual unit of production is up to 10 kg (depends on the installed model of the сobot);
At the same time, palletizing is carried out continuously, unlike stacking with the help of manual labor;
The speed of the EasyPalletizer allows it to transfer up to 8-10 units per minute (depending on installed cobot).
Do you want to learn more about the palletizing robot EasyPalletizer or become the owner of a modern and high-tech platform right now? Contact our specialists or official representatives in your region and get professional advice about the product, its features, cost and delivery conditions.