ProFeeder R - feeder cabinet
ProFeeder R is a feeder cabinet for a fully automatic CNC machine tending. It has 10 pull-out trays (600 x 400mm) for placing parts up to 80mm high. Compact, comfortable, durable and very roomy - this is how the new ProFeeder R. can be described.
The outer doors of the cabinet are designed for the operator to service the inner trays - pulling out, blocking, placing and picking up parts. The back is open to facilitate interaction with the robot on the pedestal and speed up the feeding process.
This feeder cabinet is extremely spacious and easy to service. It allows your CNC machine to run continuously for up to 24 hours. Maintenance of the cabinet by the operator - the placement of new parts instead of the processed ones and the collection of processed parts can be carried out simultaneously with the operation of your CNC machine. It is completely safe thanks to the Airlock system, which allows you to reliably lock any of 10 trays using a button.
Features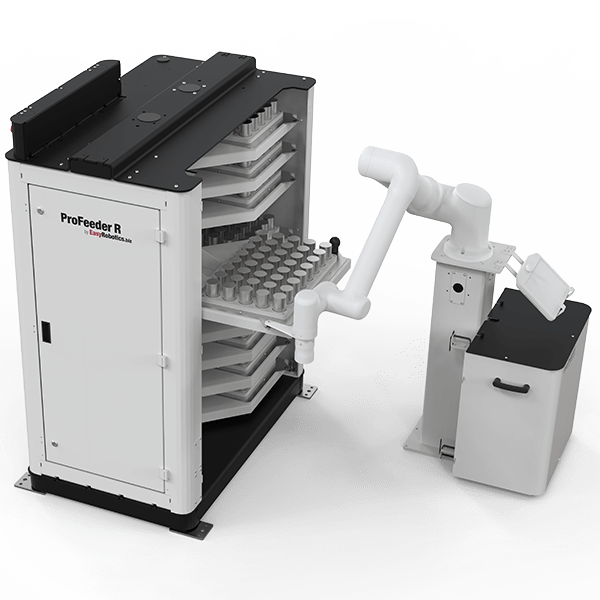 High capacity. Has 10 trays 600x400mm for parts up to 80mm maximum height
High precision. The maximum deflection with a load of up to 120 kg per 1 tray is only 1 mm
High compatibility. Fully compatible with various cobot brands and pedestals. Works with any CNC machine available on the market.
Safe operation. Due to modern and reliable Airlock locking system the feeder cabinet is safe for workers and provides secure operation for employees.
Product order overview
PFR-1101-10
ProFeeder R 10x 120 kg tray W Airlock
H: 1750 mm, W: 1300, L: 880, Wt: 690 kg, 10x 600x400mm tray area, 1mm deflection at 120kg, Max part height 80mm, Airlock