ProFeeder Compact
ProFeeder Compact is one-of-a-kind machine that is equipped with compact dimensions and is easily movable around the production facility. Compact robot arm cell takes less space in the factory and supports mass production.
The ProFeeder Compact is operated separately when being positioned in front of the machine. This product from EasyRobotics is a powerful robotic cell that comes with movable compact dimensions that supports the production.
In terms of flexibility, the Compact robot arm cell is very versatile as it can function from four different angles, that makes the movement unlimited. The PF X, when combined with an EasyPedestal, can perform as a storage support. The system is highly mobile therefore it can be placed near different types of machines for further increasing of productivity.
The PF Compact has simple construction containing up to 10 trays that can be used to handle production easily with no requirement of extra retooling. In terms of size, it is highly compact and can be easily placed on all kinds of machinery. The system is also safe to operate without causing any trouble on the assembly line.
ProFeeder Compact features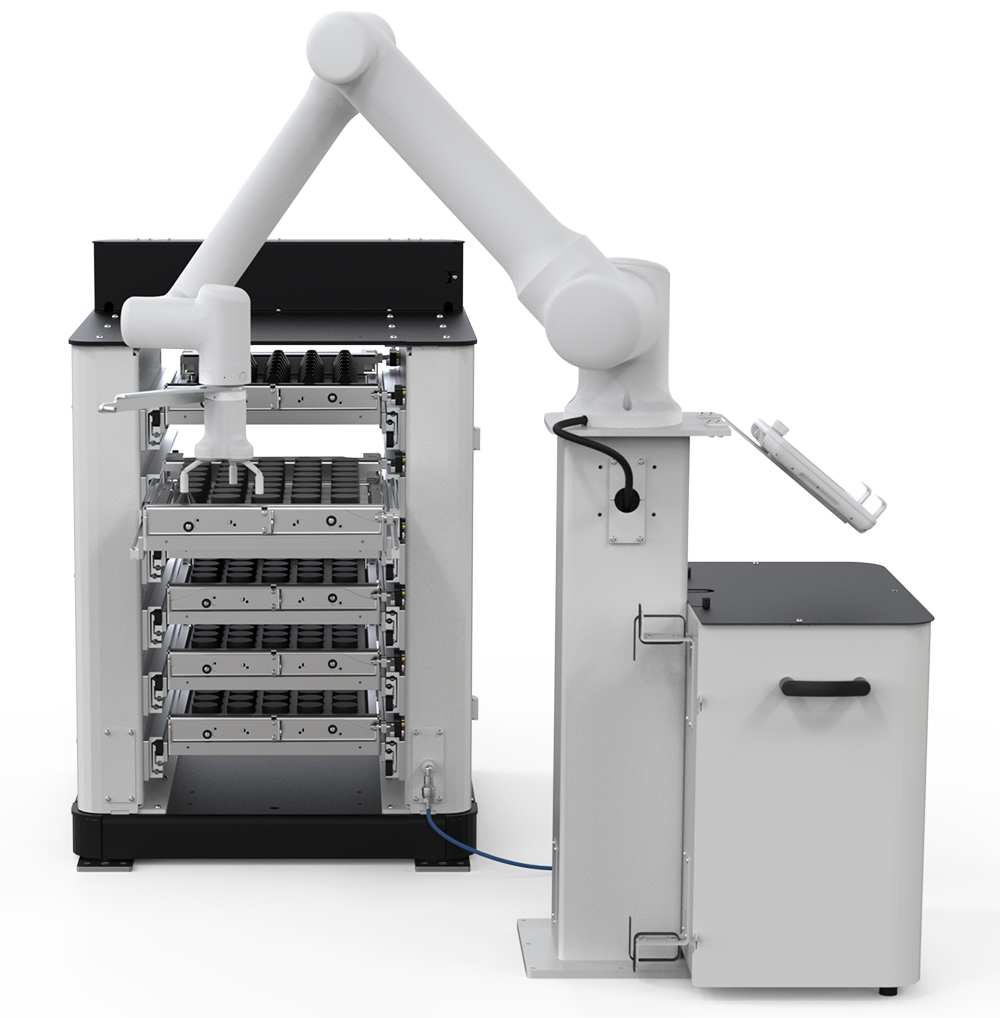 The ProFeeder Compact has two different versions that can be differentiated by the tray locking system. The purpose of the locking is to provide protection to the operator and to run a smooth production.
The Compact robot arm cell has following features:
Mechanical locking system or Air locking system;
Very compact footprint dimension. L610*W860*H1084mm;
Holds up to 10 trays;
GD wheels to transport parts (can be mounted optionally);
Optional Docking station;
Optional EasyPedestal for Robot Arm and controller compartment;
Air locking is running in digital I/O;
The trays can be customized depending on the requirements.
PF Compact robot arm cell supports following applications:
Machine tending
Polishing
Welding
Assembly
Measurement
Product order overview
PFC-1010-03
PFC 3x 60kg tray w. Mechlock
H: 1050 mm, W: 770, L: 920, Wt: 270 kg, 3x 350x550mm tray area, 2,5mm deflection at 60kg/tray, Max part height 240mm, Mech-lock
PFC-1011-03
PFC 3x 60kg tray w. Airlock
H: 1165 mm, W: 770, L: 920, Wt: 285 kg, 3x 350x550mm tray area, 2,5mm deflection at 60kg/tray, Max part height 240mm, Air-lock
PFC-1010-06
PFC 6x 60kg tray w. Mechlock
H: 1050 mm, W: 770, L: 920, Wt: 315 kg, 6x 350x550mm tray area, 2,5mm deflection at 60kg/tray, Max part height 120mm, Mech-lock
PFC-1011-06
PFC 6x 60kg tray w. Airlock
H: 1165 mm, W: 770, L: 920, Wt: 330 kg, 6x 350x550mm tray area, 2,5mm deflection at 60kg/tray, Max part height 120mm, Air-lock
PFC-1100-05
PFC 5x 120kg tray w. Mechlock
H: 1050 mm, W: 770, L: 920, Wt: 350 kg, 5x 350x550mm tray area, 2,5mm deflection at 120kg/tray, Max part height 160mm, Mech-lock
PFC-1101-05
PFC 5x 120kg tray w. Airlock
H: 1165 mm, W: 770, L: 920, Wt: 365 kg, 5x 350x550mm tray area, 2,5mm deflection at 120kg/tray, Max part height 160mm, Air-lock
PFC-1100-10
PFC 10x 120kg tray w. Mechlock
H: 1050 mm, W: 770, L: 920, Wt: 480 kg, 10x 350x550mm tray area, 2,5mm deflection at 120kg/tray, Max part height 80mm, Mech-lock
PFC-1101-10
PFC 10x 120kg tray w. Air-lock
H: 1165 mm, W: 770, L: 920, Wt: 495 kg, 10x 350x550mm tray area, 2,5mm deflection at 120kg/tray, Max part height 80mm, Air-lock