ProFeeder Compact XL
The Profeeder Compact XL is a perfect solution for production of bigger series and automation of machine tending process.  It is compatible with 99% of modern collaborative robots and has robust design.
ProFeeder Compact XL is a capacious but compact robot-cell movable around the production area. It is versatile and can be used in collaboration with any other EasyRobotics products.
Compact XL does not have a robot mount - therefore, you need to use it in conjunction with pedestals (like EasyPedestal) or multifunctional robotic cells (Like ProFeeder or ProFeeder X), where the robot can be mounted. This robot-cell has a high capacity, so it can be used as an additional storage for parts, as well as placed next to CNC machines in order to increase autonomy and productivity.
ProFeeder Compact XL has 5 spacious trays 780 x 620mm, that can be used with details up to 160mm height, working with Airlock or Mechlock locking system. That makes it safe and easy to maintain by the operator.
Features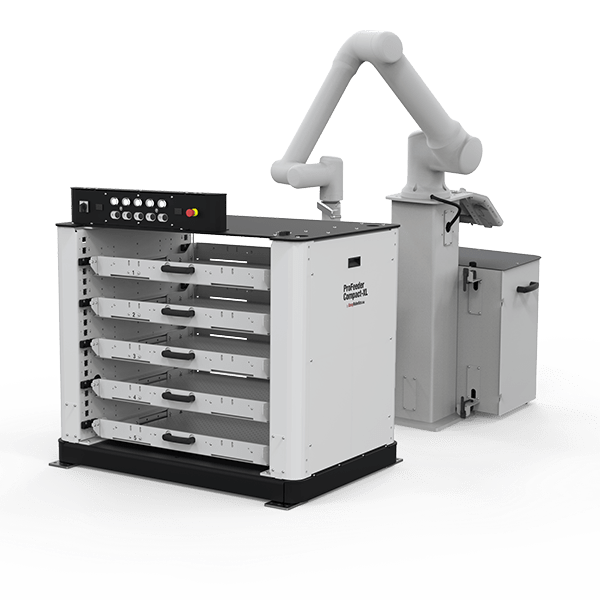 Capacious solution. It contains 5 big trays 780 x 620mm that can be used with details with maximum height up to 160mm.
100% compatibility. Compatible with all collaborative robots, pedestals, CNC machines and conveyors.
Two locking systems. ProFeeder Compact XL is available with either Airlock or Mechlock locking system.
Spacious but compact. The sizes of the robot cell are H: 1165mm, W: 1220mm, L: 920mm.
Suitable for mass production. The product is made for working with bigger series.
Professional automation. ProFeeder Compact XL is designed to decrease cycle time and increase the speed of production by proper detail storage organization.
Product order overview
PFC-2100-05
ProFeeder Compact-XL 5x 90kg tray w. Mechlock
H: 1050 mm, W: 1220, L: 920, Wt: 505 kg, 5x 780x620mm tray area, 2,5mm deflection at 90kg, Max part height 160mm, Mechlock
PFC-2101-05
ProFeeder Compact-XL 5x 90kg tray w. Airlock
H: 1165 mm, W: 1220, L: 920, Wt: 520 kg, 5x 780x620mm tray area, 2,5mm deflection at 90kg, Max part height 160mm, Airlock