EasyDesk - a universal robot workstation
EasyDesk is a universal robot workstation - a spacious and yet compact platform with 3 different tabletops. Suitable for 99% of modern collaborative robots, the workstation aims to help manufacturers increase production, automate processes, improve profitability and reduce wages.
A new workstation for robots from EasyRobotics is constructed from solid 6mm steel, and has three different tabletops suitable for different applications.
EasyDesk Tray  - spacious stainless steel robot worktable with 96 universal spots to accommodate parts.
EasyDesk Alu  -

spacious cobot table for mounting of all types of clamping equipment or parts for processing. 

EasyDesk Welding - robot welding workstation with p

lasma nitrided steel tabletop with laser cut 16mm holes, suitable for clamps and fixtures.
EasyDesk platform is a user-friendly workstation series compatible with 99% of modern collaborative robots, all CNC machines and any type of conveyor belt. It is carefully designed to simplify the automation process and speed up a wide range of production applications.
The setup is easy, because the product is delivered 90% assembled. All you need is to mount the cobot, install the controller and start producing.
One of the interesting features is a pull-out controller mount - controller compartment is equipped with easy access pull-out tray.
EasyDesk Tray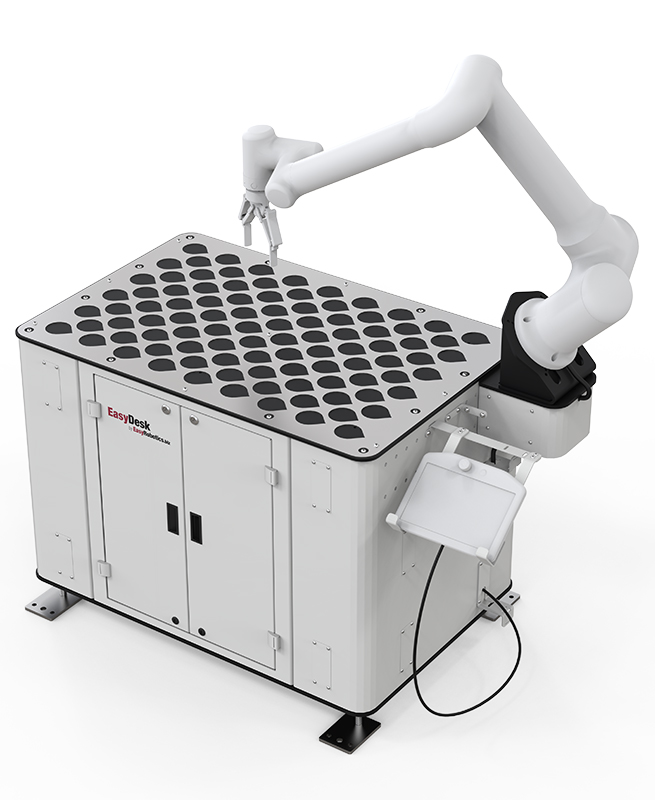 Universal solution with spacious tabletop made from stainless steel, containing 96 spots for parts accommodation.
Customizable tabletop parts-tray. You can choose standard 94x Ø0-70 parts-tray or customize it for your requirements.
Good investment. The typical return on investment is less than 1 year.
Universal solution. Increased capacity makes it the perfect solution for CNC machine tending. It's equipped with Universal 2 mm parts-tray with 94 spots.
Increased efficiency. Automated supply of the CNC machine ensures consistent high quality. The required man-hours for operation can be reduced from 8 hours to less than 1 hour.
EasyDesk Tray
is mainly designed for
CNC machine tending
, but also can be used for the following applications:
Polishing
Welding
Bin Picking
Assembly
Measurement
Robot workstation is equipped with re-attachable mount plate. The place of attachment of the cobot`s mount plate can be changed along the entire length of 3 working sides - that allows to choose the best position to ensure 100% reach over the whole tabletop.
EasyDesk Alu
EasyDesk Alu from EasyRobotics is a spacious robot cell, prepared for use in numerous applications in large series productions. It's a convenient and universal solution for large series productions. The
wide tabletop 1200x800mm is made of 40mm aluminum profile
, which supports work with
up to 300 kg
and provides versatility of use. Despite its size, Easydesk is highly mobile - it can be easily moved at any time using a pallet lifter. EasyDesk Alu is good for following applications:
Cutting
Finishing and Polishing
Deburring
Grinding
Quality Control
Robot workcell can be used in countless industries, among which:
Metal and Machining
Plastic and Polymers
Automotive
Pharma
Electronics
Chemical
Cobot console can be mounted at 0° or 45° angle to ensure 100% reach across the entire tabletop.
EasyDesk Welding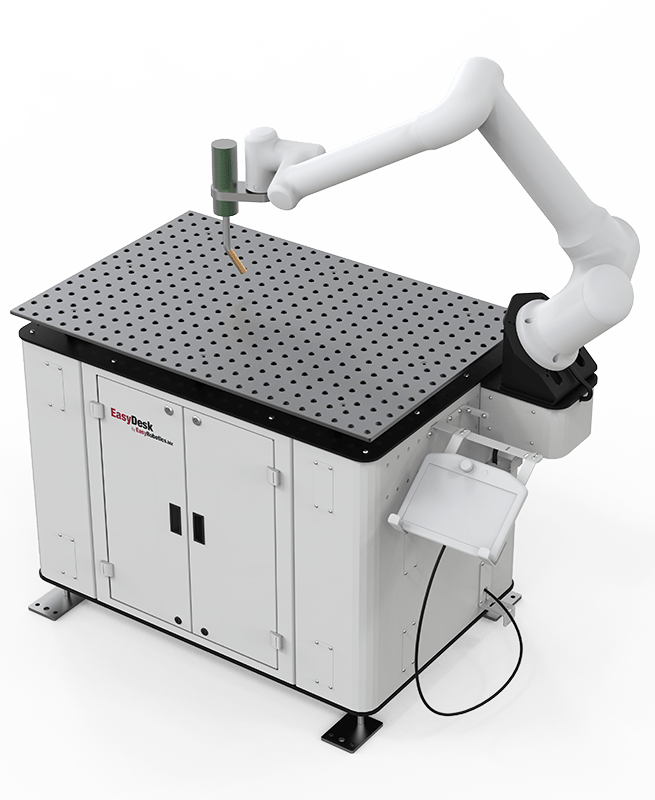 EasyDesk Welding is a high-quality welding and assembly table with built-in universal mount for all types of cobots and a retractable controller compartment. It is made for automatic/semiautomatic welding of any metal constructions of suitable size.
High quality welding tabletop. The tabletop of EasyDesk Welding is made of a high quality plasma nitrided steel, which guarantees long and reliable work. It has laser cut 16mm holes along the entire length, suitable for robust clamping and fixtures.
Perfect size for welding. Robot workstation is equipped with perforated, plasma nitrided steel plate X 8.7, 1200 x 800 x 12mm.
Steady, but flexible and mobile. EasyDesk`s trotters can be securely fixed to the floor with fasteners, but if you need to move it to a different location or place - you can easily do it with a pallet lifter.
Our automatic welding solution has the following features:
The robot cell is 100% compatible with all cobots.
The robot arm can be moved around on all 3 sides.
Cobot console mounted at a 0° and 45° angle to ensure reach across the entire tabletop.
Product order overview
PFC-1010-03
ProFeeder Compact 3x 60kg tray w. Mechlock
H: 1050 mm, W: 770, L: 920, Wt: 270 kg, 3x 350x550mm tray area, 2,5mm deflection at 60kg/tray, Max part height 240mm, Mechlock
PFC-1011-03
ProFeeder Compact 3x 60kg tray w. Airlock
H: 1165 mm, W: 770, L: 920, Wt: 285 kg, 3x 350x550mm tray area, 2,5mm deflection at 60kg/tray, Max part height 240mm, Airlock
PFC-1010-06
ProFeeder Compact 6x 60kg tray w. Mechlock
H: 1050 mm, W: 770, L: 920, Wt: 315 kg, 6x 350x550mm tray area, 2,5mm deflection at 60kg/tray, Max part height 120mm, Mechlock
PFC-1011-06
ProFeeder Compact 6x 60kg tray w. Airlock
H: 1165 mm, W: 770, L: 920, Wt: 330 kg, 6x 350x550mm tray area, 2,5mm deflection at 60kg/tray, Max part height 120mm, Airlock
PFC-1100-05
ProFeeder Compact 5x 120kg tray w. Mechlock
H: 1050 mm, W: 770, L: 920, Wt: 350 kg, 5x 350x550mm tray area, 2,5mm deflection at 120kg/tray, Max part height 160mm, Mechlock
PFC-1101-05
ProFeeder Compact 5x 120kg tray w. Airlock
H: 1165 mm, W: 770, L: 920, Wt: 365 kg, 5x 350x550mm tray area, 2,5mm deflection at 120kg/tray, Max part height 160mm, Airlock
PFC-1100-10
ProFeeder Compact 10x 120kg tray w. Mechlock
H: 1050 mm, W: 770, L: 920, Wt: 480 kg, 10x 350x550mm tray area, 2,5mm deflection at 120kg/tray, Max part height 80mm, Mechlock
PFC-1101-10
ProFeeder Compact 10x 120kg tray w. Airlock
H: 1165 mm, W: 770, L: 920, Wt: 495 kg, 10x 350x550mm tray area, 2,5mm deflection at 120kg/tray, Max part height 80mm, Airlock