EasyPedestal
The EasyPedestal from EasyRobotics is a highly compact and cost-effective solution, that is made to fixture any collaborative robot brand, such as: Doosan, Kassow, Hanwha and UR.
Collaborative robots or cobots are the most recent technology that is shaping the dynamic of a manufacturing world. The impact is both on small- and large-scale businesses as it helps in expanding productivity. They are designed to share the workspace with people.
EasyPedestal can be operated not only in combination with the highly efficient ProFeeder or ProFeeder Compact but also used individually. It is suitable for various types of machines, in different workstations. EasyPedestal is a very adaptable product and when it works in combination with ProFeeder it produces tremendous results. It is one of a kind tool that is created for the purpose to support the users in ways that can be essential in making the collaborative robot more efficient.
EasyPedestal is sturdy and made from 6 mm powder laminated steel that has cable trays integrated with it., besides being user-friendly. It can be placed on the surface of the ground by using 8x8 mm screws in both stable and industrial arrangements. It is 925 mm tall from the ground and weighs 70 kilograms. The products designed by EasyRobotics are not only advance in technology in terms of functionality, but they are also manufactured using the best material to ensure durability and stability for a longer time.
EasyPedestal can perform maneuvers on the robotic arm to steer it for 360 degrees around the midpoint of the pedestal. It has components that ensure a safe and secure work environment such as the compartment created for the controller unit, helping protect the sensitive parts of the unit from the industrial workplace risks. Additionally, it also provides extra space to accommodate other devices. The storage capacity is created to support the idea of compact machinery that is the demand of today's industrial world that is on a verge of becoming fully automated.
EasyPedestal features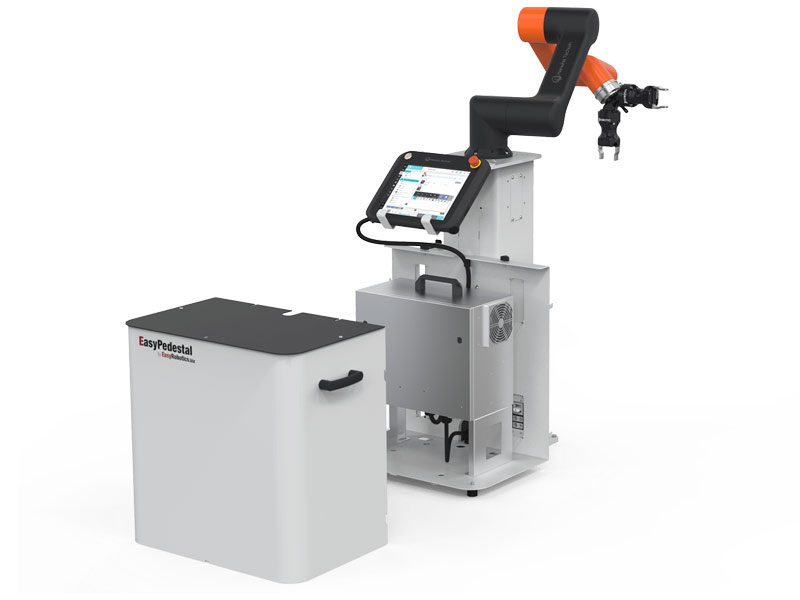 COMPACT – save space at your factory floor by combining the EasyPedestal + the ProFeeder Compact – full solution at your hands!
STABILITY – our machines are created from solid metal, where durability is crucial when working with machine tools –tending applications.
STATE-OF –THE - ART DESIGN – our machines are carefully designed, making sure flexibility is important.
Considering infrastructure can be a headache to manufactures, our machines are made to "Fit" any working station.
Benefits
EasyPedestal is compact and, like all EasyRobotics products, it is created to meet the needs of the manufacturer, with a highly flexible infrastructure, making its installation possible even in small spaces.
It is made from solid metal that ensures stability and durability, both being highly important for CNC machinery, specially to work with machine tools-tending applications.
Along all technical advantages, EasyPedestal is also cost-effective and budget friendly.
Support different types of machines, and it can be adapted to different workstations.
Product order overview
ER1003
ER Pedestal Base
TP bracket Height: 925 mm with a weight of 70 kg
ER1005
ER Pedestal PRO
Compartment for controller and TP bracket Height: 925 mm with a weight of 70 kg